Prospective Students
At STARS we are committed to making your student transfer experience as smooth as possible! While also providing you with services that will help you excell and make the most out of your academic experience! We also want to provide a space for you in which you feel comfortable and get all the advising, resources, and help that you need as a transfer student!
Pister Scholarship Application
The Pister 2022 Application is Open
Deadline to Submit Applications is Sunday, February 6 at 11:59 PM
The Karl S. Pister Leadership Opportunity Scholarship provides up to $20,000 distributed over two years, holistic advising support, and assistance in finding paid or volunteer summer work experience.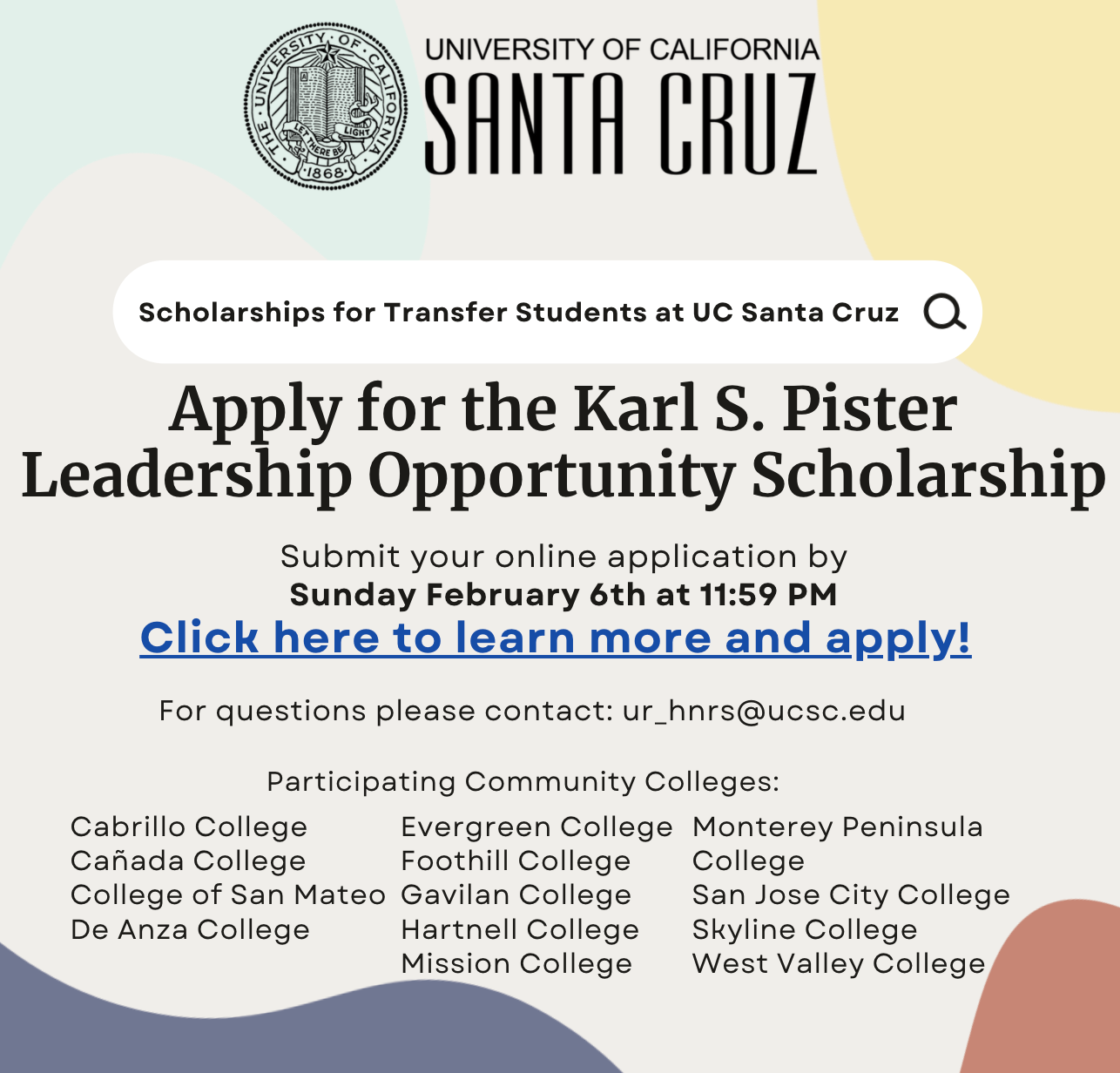 Click here for the application: bit.ly/22UCSCpisterscholarshipwebpage.  Application will close on February 6, 2022.  
STARS TRANSITION MENTOR PROGRAM

The Transition Mentorship Program (TMP as we call it for short) consists of 4 Transition Mentors, 1 Lead Transition Mentor, and a cohort of 100-145 mentees at any given time each quarter. Transition Mentors are current transfer students who offer high levels of support on a one on one basis. As STARS student staff members they can answer questions, make referrals to appropriate resources, and assist with financial planning, navigating the campus, acclimating to the university, addressing academic goals, balancing family responsibilities, and connecting with the campus community. During the academic year TMP also sponsors engaging programs for TMP mentees to gather in community.
COMET PROGRAM
We at STARS understand that transferring to UCSC can come with some anxiety and questions. This is completely normal and we can help ease the transition.
STARS has created a special program for transfer and re-entry students. COMET is a free peer mentor program to make incoming students' transition to UC Santa Cruz a smoother one.
Incoming students will be matched with a current UC Santa Cruz transfer/re-entry student mentor who has volunteered to meet one-on-one during spring quarter to:
Show incoming students around the UC Santa Cruz campus.

Take incoming students to a class or two in your academic area of interest.

Answer questions that incoming students may have about transferring to UC Santa Cruz.
Mentees and mentors can arrange a day to meet while the program runs – April 24 through May 31. Some students who aren't able to make a special trip to Santa Cruz end up connecting with their COMET Mentor through email or text messaging. Many of our former transfer students have said how valuable the COMET program was in their transition to UCSC and actually return as mentors the following year.

CULTIVAMOS EXCELENCIA/FAMILY DAY
The principal goal of Cultivamos Excelencia is to motivate and retain Latinx and other historically underserved students to complete a degree at UC Santa Cruz.  By working together with San Jose City College, we incorporate academic coursework, mentoring, transfer advising, and participation in undergraduate research.
Cultivamos Excelencia also offers a "Family Day" in which:
Once a year, UC Santa Cruz and San Jose City College host Family Day, an event welcoming students and their families to increase their college knowledge by taking a tour of the UCSC campus and learning how to better support their students who will transfer to the university. The day also explores financial aid, the transfer process, and potential career pathways.
All members of the family are encouraged to come, including moms, dads, and siblings for a fun and engaging day on campus! The day's events are also bilingual friendly.
You don't have to wait until the fall to begin your UCSC journey. Instead, you can get a head start by joining Transfer Edge. This five-week program includes taking accelerated Summer Session courses for full academic credit, residential living, Peer Mentors, and fun. 
This is a one-time opportunity for new students, and the benefits include:
25% off

 per-credit summer tuition.

A reserved seat in

 

Successful Transfer to the Research University

 course.

Individual enrollment support to help you pick the right courses to meet a major requirement.

A chance to get to know the campus and Santa Cruz before the rush of fall. 
Email summeredge@ucsc.edu with questions or to set up a meeting to discuss your options. 
Please refer to UCSC Transfer Admission page for more info:
Transfer Admission and Selection
Other resources: