Student Parents
Student Parents @ UCSC !


Welcome parenting students! STARS is here to support you with whatever it is you might need assistance with, be it resources, referrals, or support.  We try to work with a variety of different on campus and off campus resources, to try to ensure that you and your families are as supported as you can be throughout your time here.
Check out this amazing resource guide that was compiled by some incredible UCSC students leaders! Shoutout to Rakshya Sharma, Esme Garcia Martinez, and Cecilia Valadez!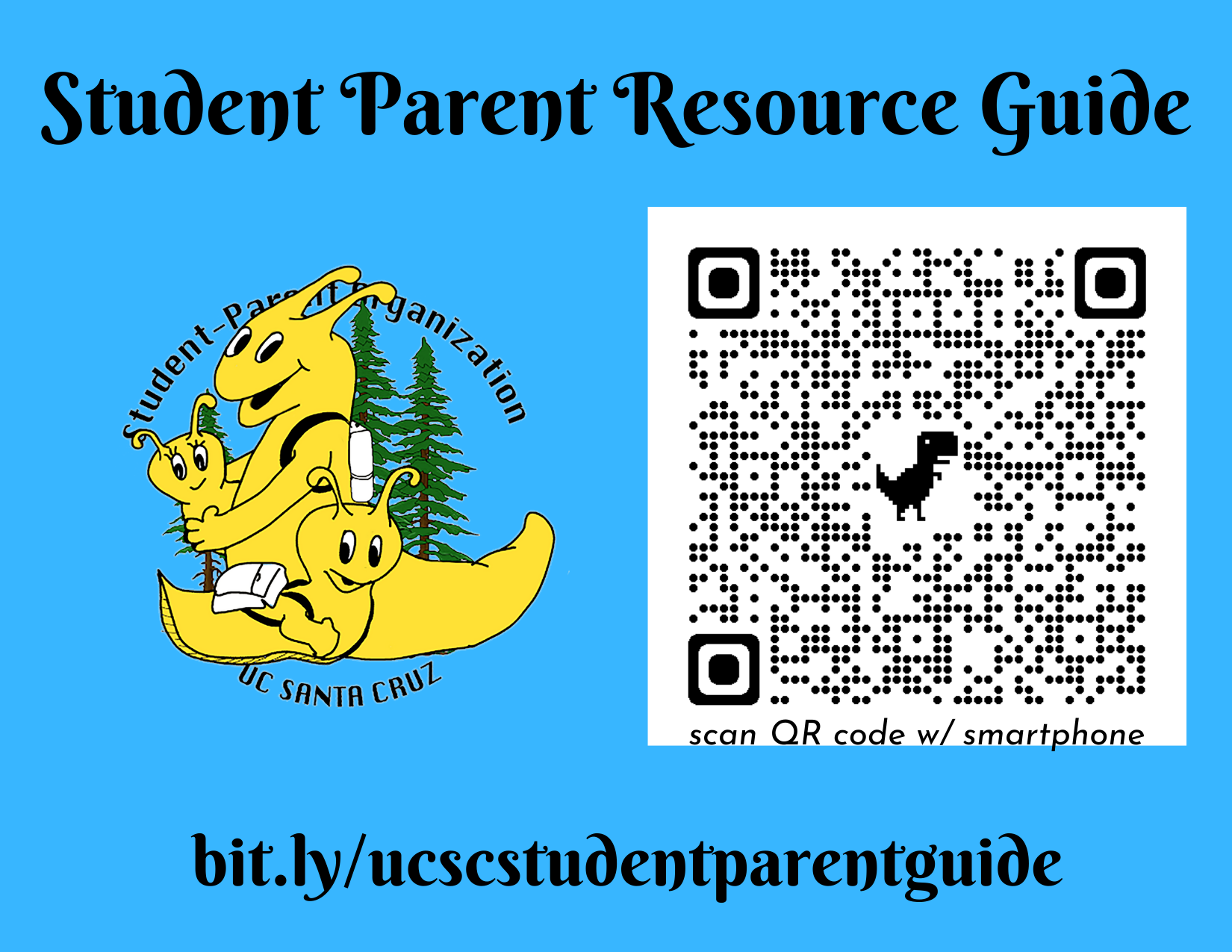 Through STARS, we offer:
*A quarterly 'Student Parent & Dependent Meal Plan' (funded by STARS, Blum Center, SFAC/Dean of Students, and ODEI).
*Various different scholarship opportunities for expenses like child care, books, supplies, summer school tuition, etc.  
*Special internship opportunities! Have the opportunity to work on a project related to the student parent experience, and get course credit for it,. 
*We are trying to establish and sponsor a student parent group on campus through the SOAR (Student Organization Advising and Resources) Office. We hope that by establishing an org like this, we are able to bring student parent issues to the table. 
*Priority registration is available for students with dependents under the age of 18! To sign up, please enroll via the following google form: https://forms.gle/mN7VErPduEjBDWEk8
Please contact jrceja@ucsc.edu for more information! 
Check out the 'Student As Parents' hosted by the Division of Student Success
https://studentsuccess.ucsc.edu/students-as-parents/index.html
CAREBUBBLES
A parent to parent UC based website tool to help students find connections and options for dependent care and support during COVID 19 and beyond. CareBubbles lets you connect securely with other parenting students in SC and the Bay Area. Visit the website to find more information: https://carebubbles.berkeley.edu/.